the solution for your interim management
FTC InfoPack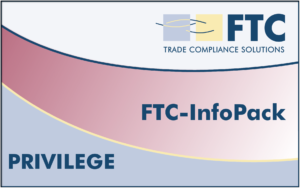 Your hour packages
for interim management, "external customs department" and major projects
Our FTC InfoPacks are the right choice for you if our FTC InfoCards are "too little" and our FTC InfoFlats are "too much" for your needs due to the volume of services.
Especially for temporary bottlenecks (interim management), time-consuming large projects (project management) and with our service to support you as an "external customs department", our FTC-InfoPacks represent a cost-attractive and fair billing model for you.
With our transparent hourly depreciation, we guarantee you the fastest possible processing time without administrative effort: no time-consuming quotation, invoicing and booking procedure per order/project and thus more favorable hourly rates.
Choose the appropriate FTC InfoPack according to your needs: BASE, PRO or PRIVILEGE

Choose your hourly package: FTC InfoPack START, BASE, PRO, EXPERT or PRIVILEGE
Together we define your project/service scope and set up your hourly account
You integrate us into your project or as an "external customs department" into your processes
We handle all tasks remotely or onsite
For account activities, monthly statements of your remaining hourly balance